10th Annual Prairie Spring Catalogued Horse Sale
Sunday, May 19, 2019 1:00 PM
Due to popular demand, we are again holding the Annual Prairie Spring Horse Sale 2019!
This sale is open to Registered / Grades, Riding / Breeding, Yearlings / 2yr olds, Miniatures, Etc.
Click on the image below to view the catalogue.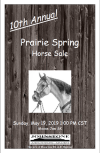 Click below if you want to enter a horse on the supplement sheet.

If you do not have Adobe Reader to view PDF files, download it for free from