Annual Prairie All-Breeds Ram Sale
Saturday, September 7, 2019 1:00 PM
Prairie All Breeds Ram Sale (PABRS) is organized by the Earl Grey & Area Sheep Producers of Saskatchewan. 
We are a group of producers who meet regularly to discuss sheep production practices.
  
Our group felt that there was a need for a ram sale that would bring all breeds and types of rams to one location
without having the hassle of driving all over the country. 
We thought that if we included purebred and commercial rams of all ages, buyers would be able to find a ram to meet their needs. 
Our intention is to provide a timely sale of breeding stock options to sheep producers. 
We hope that many buyers and sellers also agree and come out to help make this a success.
PABRS has contracted with Johnstone Auction Mart of Moose Jaw to provide services to conduct the auction.
The catalogue is now online. Click the following image to view it in PDF format.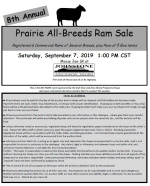 There may be a few more entries by sale day.

Terms and Conditions
Entry Form
For more information or to book your rams for the next auction, email prairieram@johnstoneauction.ca
If you do not have Adobe Reader to view PDF files, download it for free from